Desktops / Battlestations
Users browsing this thread: 1 Guest(s)
Share pics of your desktops/battlestations
Built my first waifu last week:
Yes I was a bit lazy on the wiring job
gfx: msi radeon r9 290x 4gb
cpu: amd fx8370
board: asus sabertooth 990fx
dedotitated wam: 16gb (2x8gb) g.skill ripjaws
hdd: 2TB WD green
psu: silverstone 700w
cpu cooler: cooler master seidon 120v liquid
optical drive: asus DRW-24B1ST
case: cooler master haf 912
I'm liking all my parts but I probably could have picked a better cpu and motherboard budget-wise (seeing as though the fx9370 would only be $10 more for a significant performance boost). However the cpu works great and the motherboard has a pretty badass bios so I'm not disappointed.
Boring desktop: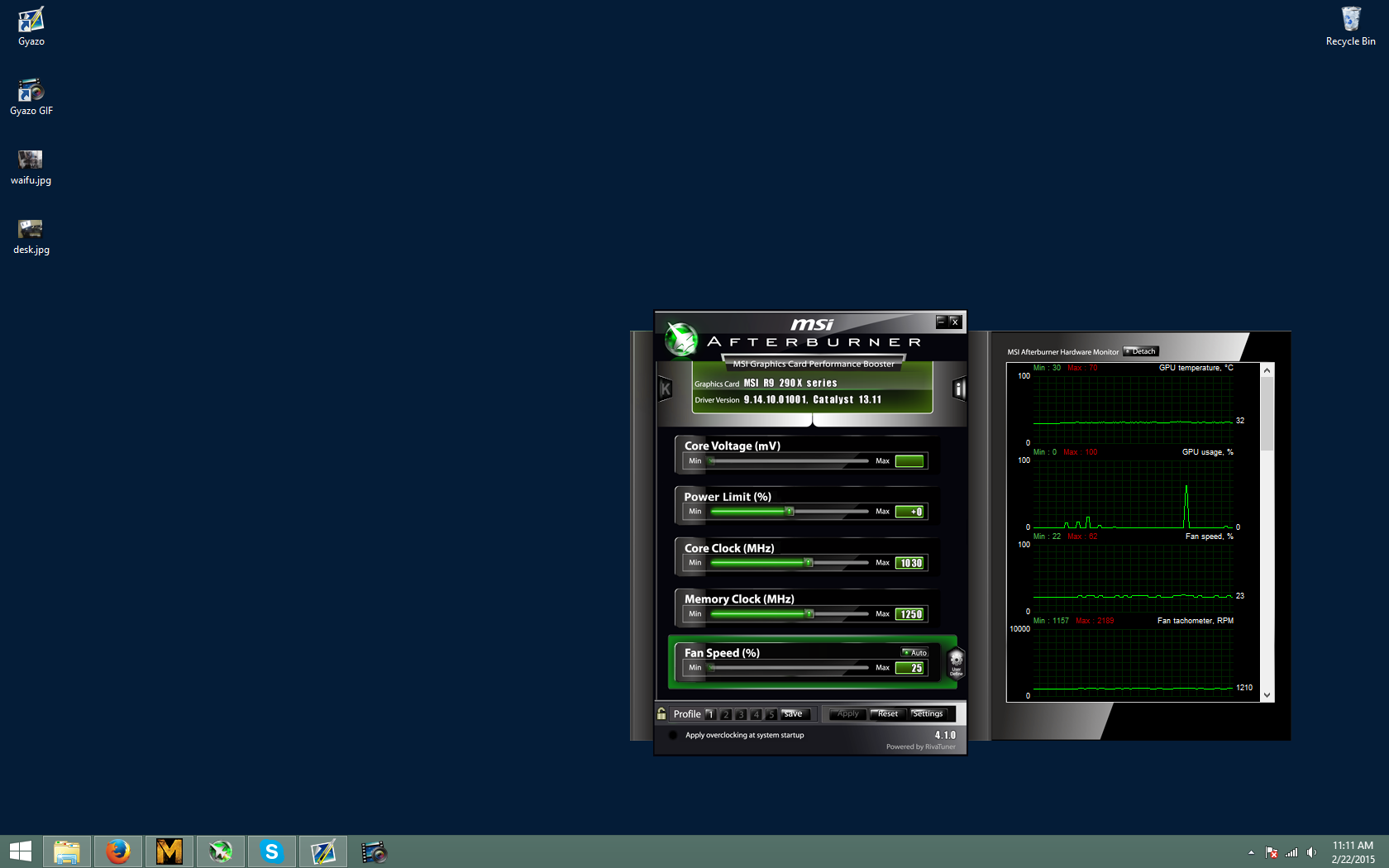 I decided to go ahead and install Windows 8.1; It feels like its just Windows 7 with a new explorer.exe which I have no problem with, and it seems fine compatibility wise. (i.e. it can run old stuff like VB6 and Halo CE with no apparent hiccups)
Running Metro Last Light (Everything is on max, except anti-aliasing which is set to ssaa 2x):
(This post was last modified: 26-12-2016, 01:20 AM by shygoo.)
My threads are now being maintained
here
DON'T DIE ON ME, THREAD.
Here's my
lean, mean, meme machine
.
It has:
Sentey Shield 6090 Case
FX-8350 8-core CPU @ 4.5GHz
H80i Corsair liquid cooler
Sapphire R9 290X OC 8GB GDDR5
16GB 1866MHz HyperX Fury RAM
Sentey 1000W modular PSU
500GB SanDisk SSD
1TB 5400RPM WD Green HDD
Gigabyte 990FXA-UD5 R5 Motherboard
300mb/s WLAN card
1080p HDMI capture card
Mesh design bay multimedia card reader
DVD RW drive (might get blu-ray one day)
Lotsa pretty lights
Way too many USB 3.0 ports
now i can finally get to 10fps in minecwaft
(This post was last modified: 05-12-2015, 10:58 PM by Trenavix.)
I'm building this one for my brother. The inside of it looks like Jeb Bush on account of picking a cheap case that doesn't make any room for cables in the back panel.
Sapphire NITRO+ Radeon RX 480 4GB GPU
AMD FX-4350 4-Core 4.2GHz CPU
Kingston HyperX FURY 8GB (2x4GB) 2133MHz DDR4 RAM
Asus M5A97 R2.0 Motherboard
Cooler Master Hyper 212 EVO CPU Cooler
EVGA 700W Bronze PSU (100-B1-0700-K1)
WD Blue 1TB 7200RPM HD (WD10EZEX)
Asus 24x Optical Drive (DRW-24B1ST)
Cooler Master Elite 431 Mid Tower Case ← Do not buy this
The total is around $620
Edit: lol i ordered the wrong ram for the motherboard
(This post was last modified: 28-12-2016, 05:06 PM by shygoo.)
My threads are now being maintained
here
Got a giant revamp for my build when I needed a mITX case to travel efficiently. I call it the shoebox.
It's rocking:
i7-7700k @ 4.5GHz
EVGA GTX 1080 FTW
16GB 3000MHz Corsair Vengeance DDR4 RAM
512GB SanDisk X400 SSD
1TB WD Green HDD
H75 Liquid Cooler (Literally broke the hoses trying to jam an H80i in there)
Intel 802.11 AC Wifi + Bluetooth 4.2 Wireless m.2 chip
1000W Sentey 80+ Bronze PSU (Ginormous overkill but I had it from my last build)
And the whole thing fits into a carry-on for a plane. I took out the liquid cooler and put it in checked baggage when going to Sweden because TSA would probably bitch at me, but didn't want a $1500 build in a bag that could be stolen. But with the liquid cooler in there, it literally makes close to no sound at all under heavy load and doesn't get higher than 85C.
(This post was last modified: 06-06-2017, 08:17 PM by Trenavix.)
Wow. I'm impressed. Congratulations
Desktops / Battlestations
Users browsing this thread: 1 Guest(s)