Simple UV mapping with Blender
Users browsing this thread: 1 Guest(s)
I, do not know how to select faces in blender and ALT + Z turns the model black.
Hello, super game cube and welcome to the forums.
You need to be in edit mode, just click tab.
Right click is to select a face and Right click + Shift is to select multiple faces.
Gone for a while.
You can select the faces in both the uv and 3d editor by clicking the the face selected box in those three little boxes under at your screen (they look a bit different in the uv editor though)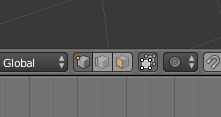 Then use the right click mouse button to select a face, hold shift to select more faces.
Alt + Z is supposed to change the View port shading to texture which is also a button under on the same line as the select boxes.
The reason why your model is black is probably because there is a lamp in your scene, if you delete that lamp you should be able to see the textures
I, removed the lamp but now when I press ALT + Z the model just turns white. I'm in edit mode by the way.
Wait a minute I figured it out.
Simple UV mapping with Blender
Users browsing this thread: 1 Guest(s)